Commissioning a piece
More often than not I work on commission, which is always a very rewarding and enjoyable experience for me and I hope, for the person who commissions the piece. It results in jewelry that is meaningful to the owner because it was designed with them in mind.
Sometimes a piece is bought by the wearer, but often the jewelry is commissioned in secret as a present for someone. People occasionally come to me with a fixed design idea, but usually they just have an occasion in mind, perhaps a story or an experience they want represented and might specify specify whether they would like to comission a ring, necklace or bracelet etc.
The first thing I do is find out as much as possible about the taste of the person who will wear the piece. This usually involves a flurry of e-mails or phone calls in which I ask lots of questions about favourite colors, stones, metal, artists, designers, furniture, flatware... I want to know anything that will give me a feel for his or her style and taste. I ask for descriptions and photos of any particularly treasured jewelry pieces. It may also be appropriate to reflect within the jewelry, some aspect of the occasion for which the piece is being commissioned. There is very often a story behind the design of the pieces I make.
It's important to get an idea of the budget at this point, so that I can design and choose metals and stones to suit.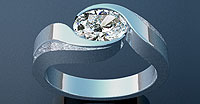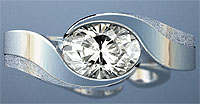 For the next step I sketch out some ideas and then use CAD (Computer Aided Design) software to produce design renderings.
Here's are CAD renderings of the design chosen for Tina's wave ring.
Once the design is finalised, the piece is either handmade from sheet metal and wire, or a one-off wax model and casting is produced from the CAD file using the latest CAD/CAM technology. Sometimes a combination of both CAD/CAM and hand fabrication is used - I employ which ever methods will give me the highest standard of fit and finish.
To read about the process Andrew and I went through when designing Alex's ring click here. You can also watch a short video in which I talk about the design process and how the internet and CAD has enabled me to work remotely with clients from overseas.
Commissioning a piece from overseas
At the moment I live in Boston in the US, but make jewelry commissions for clients all over the world. I find that designing and discussing a piece over e-mail works well. I am also more than happy to discuss a project over the phone. I am able to e-mail CAD renderings of designs which allow the client and I to have a clear idea of how the final piece will look.
How much does a piece cost?
The cost of a piece varies greatly depending on the design time required, the complexity of fabricating the piece and of course the cost of the materials used.
Unless you have a clear idea of exactly what you want, the design process generally takes me 10 to 20 hours (usually spread over a few weeks). This time involves e-mails back and forth discussing style and taste, likes and dislikes; sketching ideas and drawing them up in CAD; producing renderings of 2-3 design ideas; researching appropriate stones etc; estimating the cost of fabricating the designs.
The cost of creating the piece will of course vary depending on how complex the design is, the materials and the type, size and number of stones used. Before I start the design process, I like to have some idea of budget so that I can design within these parameters. Obviously the total cost of a commission varies widely from project to project, but generally my clients spend in excess of , once design and fabrication are taken into account.
I currently have the prices of three limited edition pieces on my website: Morse ring, Carousel ring, Daisy ring.
If you are interested in commissioning a piece of your own, please contact me: