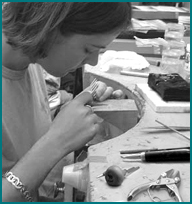 I think jewelry is something to treasure for life ... so each piece should hold a special meaning for its owner.
I love the idea of secrets within jewelry, of incorporating something known only to the wearer.
Often the pieces I make reveal more of themselves the closer you look, so what you see at first glance is not the whole story. This discovery makes you smile, there's a child-like delight in finding something you know others haven't noticed or will never know about. I'm sure others feel the same, so I love to try to incorporate some sort of secret into my designs, like the message within the Morse ring and Morse necklace, the little cross inside the Church ring, or the diamond inside the Tourmaline pendant.
One of my clients said that she loves the way I incorporate 'something for the soul' in my work; which is a lovely way of putting it I think.


Attention to detail and a high standard of craftsmanship are extremely important to me. No matter how beautiful the original design, a piece will not look good unless it is made well. I hand-polish my pieces using progressively fine emery and polishing papers in order to preserve their clean lines.

I trained to be a jeweler at North Bennet Street School in Boston Massachusetts, a school acclaimed for traditional craftsmanship. I have recently taken a post as a part-time instructor at the school and am thoroughly enjoying teaching there.

I was born in England and studied psychology at Oxford Brookes University. I presently live in Boston, MA, though I take commissions from all over the world. To learn more about commissioning a piece from me click here. You can also watch a short video in which I talk about the design process and how the internet and CAD has enabled me to work remotely with clients from overseas.